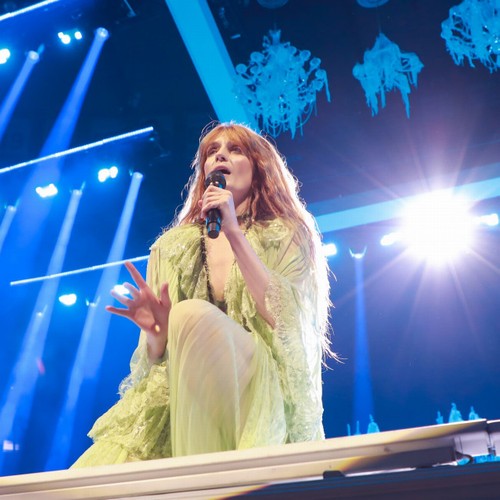 Florence Welch joked that she would "eat this later" when a fan threw a fake "blood cut hand" on stage.
Florence and the Walker were performing at Madison Square Garden in New York as part of the "Dance Fever" world tour when a strange gift was thrown at her.
She replied, "It's a beautiful hand cut in blood.
"how did you know?"
Then, in a TikTok clip she posted on the band's page, she sarcastically said, "I'll take that up later."
Then the 'You Have Got The Love' singer put her hand on the beam behind her before continuing with the concert.
Fans are in luck that there is a 'Dance Fever' tour, where the singer recently admitted to the uncertainty of the COVID-19 pandemic that made her consider putting her latest album on the shelf.
The songwriter on "Dog Days Are Over" explained how the global health crisis had made it difficult to end "Dance Fever," specifically US-UK travel restrictions, and it wasn't until she and producer Jack Antonoff crafted the tracks for "King." and Choreomania that Florence knew they had something very special to give up.
She said, "There were so many moments I almost gave up that record. There were so many moments I almost went, 'I feel like the world is the way it is, it's so hard to finish this.'"
"I started with Jack [Antonoff]And we were supposed to take the entire record at the Electric Lady in New York in… March 2020. I went to New York. I packed my bags for a month, and we were going to make everything… We did a bunch of great songs. The first song we wrote together was 'King' and…so Jack wanted to work together for a while, and we met and communicated really well. I found him really cool to talk to. I've never really started working with anyone at this point in my career, unless we get into the studio and do something, and that really tells you if something is going to work. You'll never like, "Yeah, let's do this," until you have a play date, and on that play date we wrote "King" and then "Choreomania." I had a "dance mania" and he was in a show-like state, and what Jack did to him, he took it so far. I was like, this guy is really good. It's really good.
The strength of these two songs was like, "Okay, something's really here," and then we agreed to start recording together. We got to New York, that week we wrote "Free" and we wrote "Back In Town".
The 35-year-old singer also admitted that she went through a grieving process when live music was canceled at the height of the pandemic, and she didn't know if she'd be back on stage.
She said, "I felt like this touch cathedral that I had built had been flattened overnight. Grief and loss… It was also, as if it was my job." I didn't know if she would come back and I didn't know how to do anything else. Don't know how to do anything else? Because there were a lot of false starts like, 'We can go finish the record, or we can't, there's another kind. We're going to get to New York to do that. Oh, we can't. Everyone in England has COVID, you can't leave. America doesn't' wants you.
"And so, there were a lot of false starts about whether or not that record was going to end.
"And you will see a round go up, it will be cancelled."
The fiery-haired star got used to life out of the way and felt 'abandoned' when it wasn't the only place she would go to get 'a break from herself' anymore, and she began to doubt whether she would ever want to tour again.